Presentation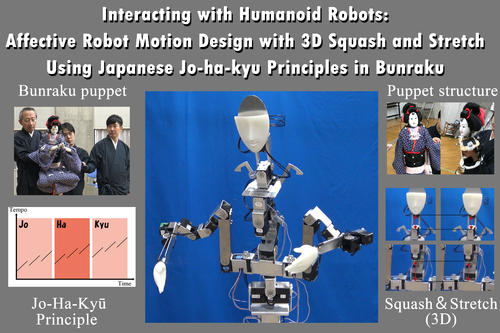 Interacting With Humanoid Robots: Affective Robot Motion Design With 3D Squash and Stretch Using Japanese Jo-ha-kyu Principles in Bunraku
Pipeline
Photography
Rendering
Virtual Reality
This session WILL be recorded.
Production & Animation
Research & Education
Ultimate Supporter
Ultimate Attendee
Exhibitor Ultimate
Description
Bunraku puppet creates sophisticated affective motions following Jo-Ha-Kyū that has slow and fast modulations or breaking in rhythm or tempo in music or performances. A life-size humanoid robot is designed based on a Bunraku puppet. 3D squash and stretch motions can be generated in robot dynamics following the Jo-Ha-Kyū principle.