Presentation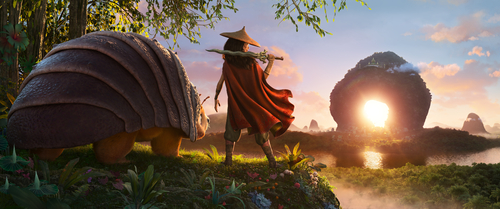 Learning to Trust - The Making of "Raya and the Last Dragon"
Event Type
Production Session
This session has been pre-recorded.
Ultimate Supporter
Ultimate Attendee
Exhibitor Ultimate
Description
What are the mysterious Druun? How can enemies from different parts of a vast world learn to trust each other again? In Walt Disney Animation Studios' "Raya and the Last Dragon," our protagonist first breaks the world and then leads us on a journey in search of a magical solution to heal it.

In this session, our filmmakers show how they collaboratively crafted the extensive lands of Kumandra and filled them with distinctive characters and detail that represent a compelling mix of fantasy and Southeast Asian influences. We'll reveal the challenge of creating a brood of magical water dragons that rippled through multiple departments. Creating a nemesis for the dragons unlike anything seen before was another task for our effects and lighting departments. All shot through the lens of a story-enhancing cinematography plan that considered every detail right down to the dramatic film grain, all while working from home.

Please unite with us as we detail our collaborative filmmaking process.