Presentation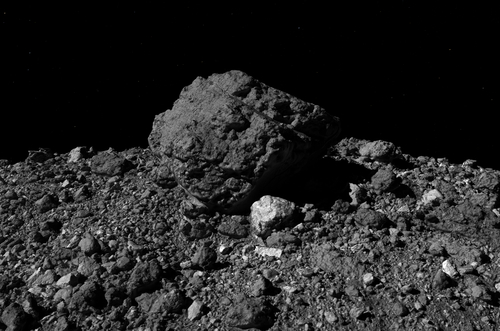 Tour of Asteroid Bennu
Event Type
Computer Animation Festival - Electronic Theater
Film and TV
Games
Visual Effects
Arts & Design
Gaming & Interactive
Production & Animation
Ultimate Supporter
Ultimate Attendee
Exhibitor Ultimate
Enhanced Attendee
Studio/Organization Affiliation(s)
NASA Scientific Visualization Studio
Synopsis
Take a narrated tour of asteroid Bennu's remarkable terrain.
Country(s) of Origin
United States
Description
NASA's OSIRIS-REx spacecraft arrived at asteroid Bennu December 2018. Scientists had expected Bennu's surface to consist of fine-grained material, but were instead greeted by a rugged world littered with boulders. Now, thanks to laser altimetry data and high-resolution imagery from OSIRIS-REx, we can take a tour of Bennu's remarkable terrain.